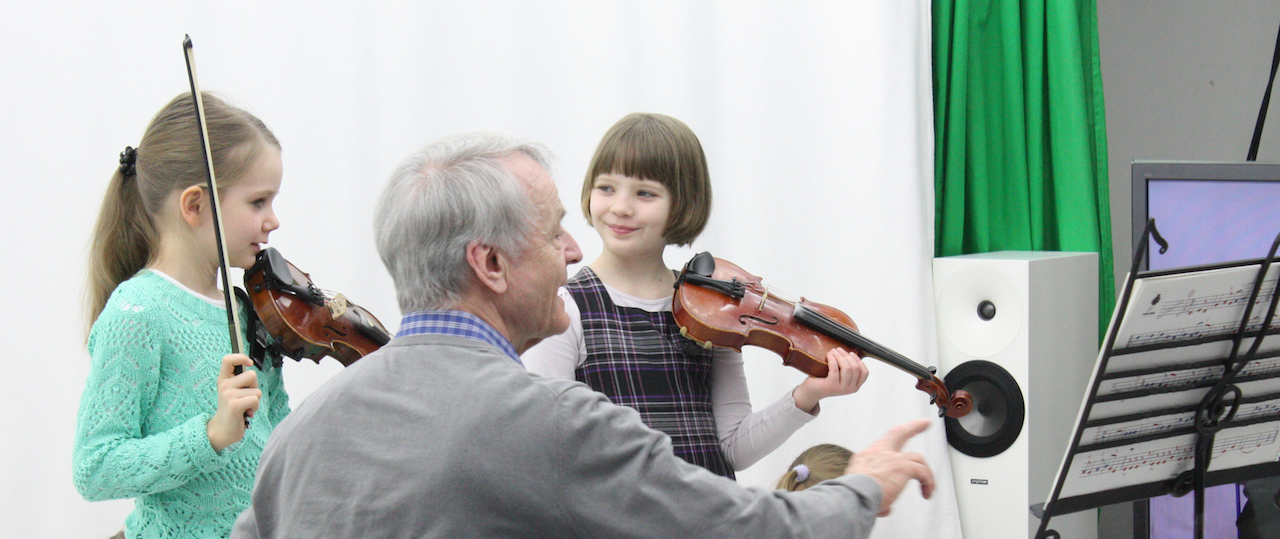 Beginner Violin Lessons Online

Minifiddlers video lessons provide a complete guide on how to teach children to play the violin with the child-centered Colourstrings Method. Follow the weekly proceeding instructions of the Colourstrings program, developed by Géza Szilvay based on the philosophy of Zoltán Kodály.
In these online beginner violin lessons, teaching starts from the very beginning and progresses until mastering the basics of violin technique. In the videos Professor Szilvay teaches a group of children, which makes it easy for you to follow along. You can study the videos individually at your own pace, or gather together your own group of little violinists.
How to use our violin lessons
Minifiddlers videos can be purchased and viewed here at our webshop. Videos are divided in packages that include lessons for a whole year. Each package includes between 30 and 32 lessons, and each video is 15-30 minutes long. You can purchase and watch our videos after you have created an account to our webshop.
The videos follow a weekly lesson plan and each of them has a specific subject. You can take a look at the subjects of the lessons here.
Monthly
Subscription Package

39,90 € / month

12 Months package

14,95 € / month
(Billed 179,40 € once a year)
Who can use our videos
We offer our online violin lessons for both individual use (teachers, parents) as well as for entire musical institutions.
For private use: After creating an account you can purchase our videos on the Buy page and view them at any time.
For musical institutions: If you represent a music school or institution, please contact us at shop@minifiddlers.org for more information about providing our videos to your pedagogues. We also offer distance training where teachers and their students are instructed in real-time video conferencing.
PLEASE NOTICE THAT YOU NEED TO LOG IN FIRST TO WATCH VIDEOS